The Special Olympics Coach is responsible for :
Selection, assessment and training of Special olympics athletes.
Selection : The Special Olympics Coach will recruit athletes and properly complete and submit all required medical and registration material by established deadlines.

Assessment: The Special Olympics coach will assess each athlete ro determine the appropriate individual and/ or team skill level for trainning and competition in selected sports. Coaches shall ensure that athletes compete in events within their sport that challenge their potential and are appropriate to their ability. safety should always be the first priority when selecting levels within a sport.

Training: The Special Olympics Coach will develop an individualized training program for each athlete and team . The program shall include proper and appropriate instruction in fundamental skills, conditionning and competition rules .The training sessions/Practices will be offered at least once per week for eight weeks. Ideally, coaches should conduct practices tweek for 10 weeks.
Understanding and abiding by the official Special Olympics Sports Rules. Coaches shall be knownledgeable about all current Special Olympics and National Governing boby competition rules and regulations applicable to their sport and shall prepare their athletes prior to competition in accordance with Those rules.Rules are reviewed on coaches'calls, at coaching clinics and are available online.

Knwowing and understanding the sport being Coached. Every Coach shall abide by the letter and spirit of the rules and be responsible for conducting him or herself in a sportsmanlike manner at all times.

Executing the moral responsabilities and duties of a coach. All coaches must abide by the Special Olympics coach's code of conduct .Coaches shall be honest and instruct athletes to compete with maximum effort in all preliminary trials and/or finals .

Provinding and maintaining a safe and secure physical environment, including the use of acceptable and safe equipment while training and competing . coaches shall place the health and safety of Special Olympics athletes above all else.

In a Team Sports , matching athletes on the same team according to size , strength and ability. Team coaches shall ensure that all athletes participate in every game , regardlessof ability. Coaches are responsible for assuring that reported assessment and preliminary or qualifitying scores for their athletes accurately reflect the abulity of their athletes and the team as a whole.

Informing athletes of the inherent risks associated with a specific sport

Ensuring acceptable supervision and maintain an adequate volunteer- to-athlete ratio during practice sessions and at events.

Establishing an emergency action plan That includes procedures for emergency medical support, postponements or cancellations . cricis communication and accident reporting .

Providing appropriate medical Support at all times. Air on the side of caution.

Maintaining acurate records - Most importantly,completing an accident/injury report should one occur . Always air on the side of caution and fill form out, regardless of your opinion of the severity of the injury or incident.
Responsability of a Coach
Coaches Who Inspire -- and Are Inspired
Our coaches give Special Olympics athletes the chance to reach his or her potential --and find their dreams. At the same time, something special can happen.
For Mike Cohen, the surprise came after he began coaching young men with intellectual disabilities who loved basketball. With his training and guidance, the team grew in skill and confidence. They soon began competing against other Special Olympics teams throughout Florida. Soon, their classmates and neighborhood began to follow their games. For the first time, the young men were valued and praised in their community.

Coach Cohen expected Special Olympics to give purpose to these young men. But he didn't expect to be transformed himself – by their courage and commitment. He also knew he had made a real difference in their lives. Now he is a key player in his local Special Olympics Program. He encourages everyone he knows to get involved.
Special Olympics Coache's Oath.
" In the name of all coaches, we shall dollow written and verbal instructions of Special Olympics officials at all times, have our athletes at the appropriate events and activities at the propertime , and abide by the rules and plocies, in the spirit of sportsmanship.
Like any amateur Coach, the Special Olympics Coach is responsible for teaching the Special Olympic athletes sports and life skills, and to engrain in them a competitive spirit that defines any true athlete. In addition to instructing , a Coach might be called on to serve the role of friend or mentor.
The Special Olympics Coach is a leader and recognizes that he/she holds a position of trust and responsibility coach in a program that deals with a formative period of a person's development .
The Special Olympics Coach has the understanding, patience and the capacity to work with children and adults with intellectual disabilities . Above all else, the Coache realizes that he/she is helping to shape the physical, mental and emotional development of athletes on his/her team.
The heart of Special Olympics is what happens between the Coach and athlete. It is the Coach, more than any other individual, who controls the situation in wich the athletes can benefit. The Coach and athlete share a common interest in a game , a desire to excel, and a determination to win . Athletes often idolize their coach, not because he/she is the most successful in terms of wins ans losses,but because the coach is a source of inspiration and undersanding.
Above all else, the coach is sensitive to the mental and physical abilities of the athletes and recognizes that the game is a vehicule of training and enjoyment , not an end in iself.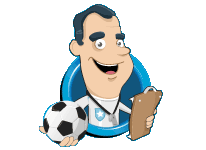 DOCUMENTS



SOH Training for reinforcement of capacities of Coaches.